Back To Menu
Deep Fried Green Beans
You'll be hooked.
SAUCE:
Ranch
Bleu Cheese
Salsa Ranch
BBQ
1000 Island
Tartar
Onion Ring
Have you tried this item? Pop it!
Help other diners know what to expect by sharing your experience.
1 person has popped this item
Photo Gallery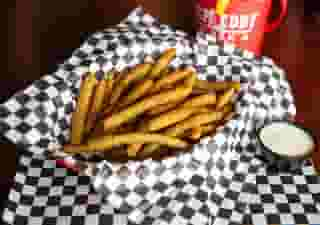 Back To Menu
Deep Fried Green Beans
You'll be hooked.
SAUCE:
Ranch
Bleu Cheese
Salsa Ranch
BBQ
1000 Island
Tartar
Onion Ring
  Back To Menu